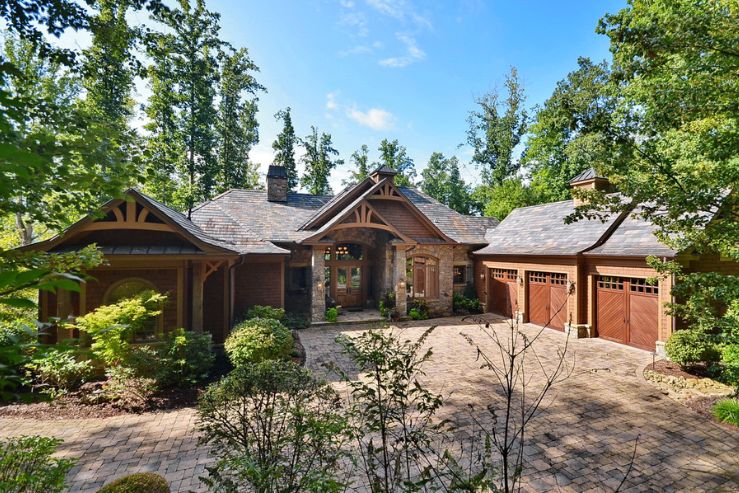 Building your first luxury home can be an exhilarating yet daunting task. It's an opportunity to finally live within the walls that grace the pages of high-end architecture magazines or those that you've admired in swanky neighborhoods. But where do you start? In this ultimate guide to building your first luxury home, we'll take you through the key steps and considerations to help you bring your vision to life.
Why Build a Custom Luxury Home?
We often associate the word "luxury" with opulence, extravagance, and splendor. But a truly luxurious home isn't solely based on its expensive price tag or size. Instead, it's about the attention to detail, the quality of the craftsmanship, the design aesthetics, and the functional features that make the living experience genuinely exceptional.
A custom luxury home offers several distinct advantages over a pre-built, ready-to-move-in property. Here are some of the key reasons to consider building your bespoke dwelling:
Absolute Personalization
The most significant benefit of constructing a custom luxury home is the opportunity to customize it to your heart's content. You can incorporate your unique taste and desires in many ways and however you wish, from the architectural design to the smallest fixtures. Leave nothing to the whims of the contractors and do not limit yourself by adhering to pre-existing design choices—your dream home is genuinely yours to create and will fit your lifestyle perfectly.
Superior Quality and Craftsmanship
With a custom luxury home, you have greater control over the materials used and the level of craftsmanship invested in your abode. This greater control means that you can ensure top-notch quality for your house, right down to the smallest details.
Enhanced Energy Efficiency
Another advantage of building a custom luxury home is the opportunity to incorporate state-of-the-art energy-efficient features and technologies. Doing so can reduce your carbon footprint and save you a considerable amount of money on your energy bills. Creating an eco-friendly, energy-saving haven has never been easier, from installing high-performance insulation and windows to solar panels and smart systems.
Flexibility for Future Expansion
It's essential to think long-term when designing your dream home. A custom luxury home allows for future expansion possibilities, whether you plan for a growing family or need to accommodate changing lifestyle needs. As your requirements evolve, having a well-thought-out flexible design will make renovations or additions much more seamless and hassle-free.
Increased Property Value
Custom luxury homes tend to be more valuable than generic high-end properties. By incorporating unique features, architectural designs, and exceptional materials, you can enhance your property's resale value. It sets your home apart from others in the market and attracts potential buyers looking for a one-of-a-kind dwelling.
Factors To Consider
You must consider several factors when planning your first luxury home build. Assessing these aspects before embarking on your journey will keep you on the right track and help bring your luxury dream home to fruition.
Location, Location, Location
Your luxury home's location is crucial, as it determines not only the property's value but also your family's lifestyle. Take some time to research the area and assess its access to essential amenities like schools, healthcare, and recreational activities. Look for estates or properties with a sense of exclusivity, privacy, and beautiful views and landscapes. After all, it's your luxury home, you should situate it in a location that complements your achievements and aspirations.
Designing Your Dream
Once you've found the perfect location, it's time to bring your dream home to life through innovative design. Work with an experienced architect who understands your vision and can translate it into detailed plans. Luxury homes often include features like open floor plans, cathedral ceilings, gourmet kitchens, and spa-like bathrooms. Collaborate with your architect to find the perfect balance between functionality and extravagance that suits your family's needs and desires.
Working With the Right Professionals
Building your first luxury home requires a team of skilled professionals who understand the intricacies of creating such an opulent abode. Beyond the architect, you'll want a reputable builder with experience in crafting high-end homes, like Herrington Homes, a company specializing in new custom home construction. Additionally, consider the services of an interior designer and landscape architect to ensure you realize your dream inside and out.
Budgeting for Success
No luxury home is complete without proper budgeting. Your financial plan should cover the cost of building the house, landscaping, interior design, and any additional features or amenities you wish to include. Prepare to invest in high-quality materials and construction methods to ensure the lasting beauty and value of your luxury home. Consult with your financial advisor for guidance on balancing your budget while still realizing your vision.
Features To Add
An essential aspect of building your first luxury home is selecting the perfect combination of features to incorporate into your property. Here are a few popular options that add both functionality and opulence to any luxury home:
Outdoor Living Spaces
Transforming your backyard into an opulent oasis isn't just about aesthetics; it's also about creating a seamless connection between the indoor and outdoor spaces. Incorporate luxury features that meet your entertainment, relaxation, and customization needs, whether it's a sophisticated outdoor kitchen, an inviting covered patio, or a tranquil infinity pool.
Spa-Like Bathrooms
A luxurious bathroom isn't complete without a spa-like touch. Consider extravagant upgrades like a walk-in rainfall shower, soaking tub, and heated flooring. You'll want to prioritize high-quality materials for your surfaces and proper lighting and ventilation.
Custom Gourmet Kitchen
The kitchen, which is the heart of the home, should meet culinary requirements while also exuding luxury. Invest in top-of-the-line appliances, custom cabinetry, and high-grade materials for countertops and flooring. Don't forget to incorporate an architectural focal point, such as an oversized island or designer range hood.
With the right knowledge and resources at your disposal, building your first luxury home can be an exciting and gratifying journey. This ultimate guide to building your first luxury home provides you with the insight and expertise necessary to plan and create a stunning luxury abode that's a match for your success. As you embark on this venture, trust building professionals like Herrington Homes to bring your dream home to life. With some careful planning and attention to detail, you'll soon be stepping into the lavish sanctuary you've always envisioned.